The great wildebeest Migration, over 2 million migratory animals are moving in a clockwise direction. Through the Serengeti, Maasai Mara, northern Ngorongoro, Maswa game reserve. And loliondo controlled area during the great wildebeest migration, which is a wildlife spectacle. These animals are moving for survival. So they are moving to the ecosystem that is most favorable at a specific time of year.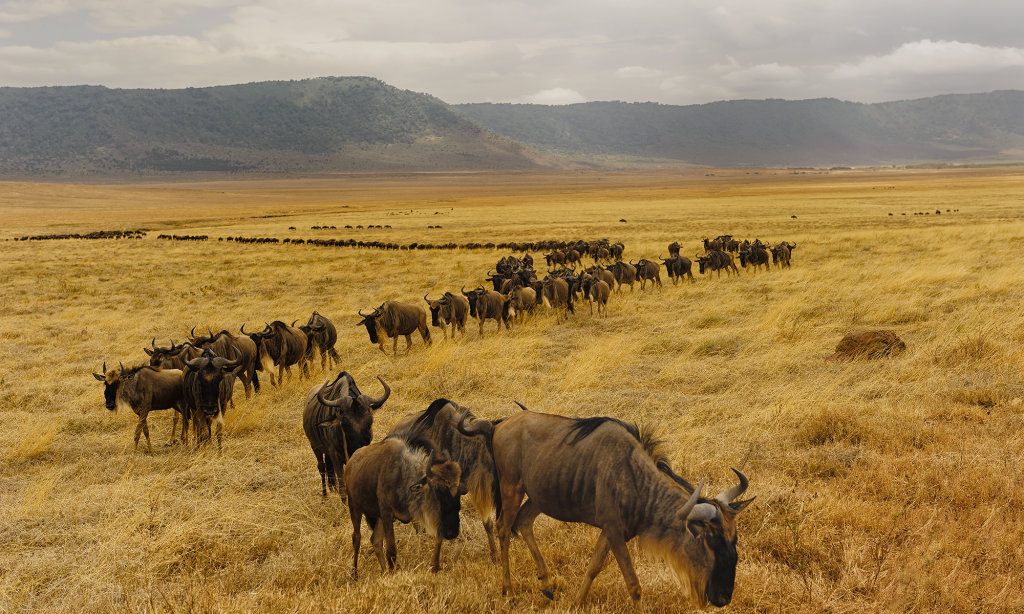 Why the animals that participate in the annual big wildebeest migration travel in groups;
Excellent wildebeest migration creatures like wildebeest, zebra, gazelles, and elands move together because they have a desire for greater pastures and water, but these animals also have a secret alliance.
For instance, other animals follow wildebeest to green pastures because of their keen sense of smell and instincts to follow the rains. However, zebras and other animals have greater vision, so they can see further.
Best time to visit & see the great wildebeest migration.
The annual great wildebeest migration a spectacular sight to behold, but some specific periods or highlights are regarded by tourists. Stakeholders as the finest times to watch these migratory creatures.
The highlights of the great migration of wildebeest listed below.
calving season (June to March);
During this time, migratory animals like wildebeest and zebras give birth and care for their young. This takes place in the area called "Ndutu" in the southern Serengeti and the northern Ngorongoro. This area is mineral-rich, plain, and has short grass, making it the ideal location for migrating animals to calve. It is the perfect period to breed due to the daily reproduction of thousands of newborns. The close proximity of predators. it is an ideal time to witness a live hunt.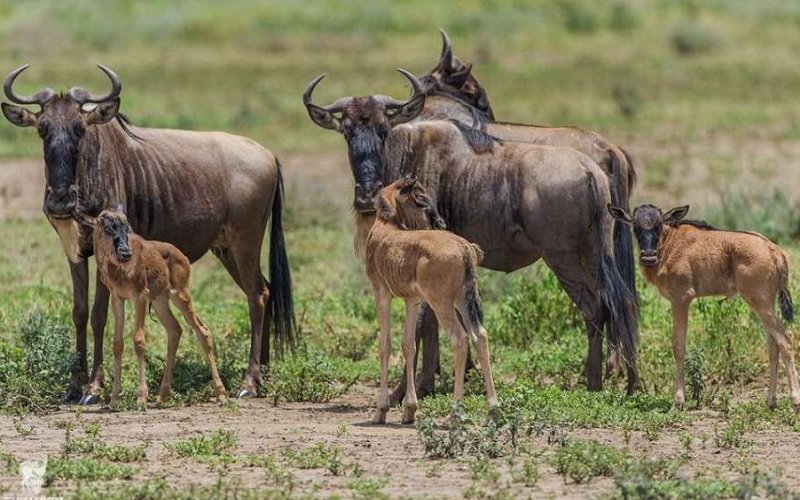 Mara river crossing (July to October):
During this time, it expected that the great wildebeest migration will cross the Mara river. If you have ever watched National Geographic, you may have seen thousands of wildebeest crossing a river and crocodiles feasting on them, which is typically what happens. As a result of what you have read above, you now understand that the crossing is necessary for their survival. Therefore, thousands of wildebeest prepared to cross the Mara river for green pastures and water in Masai Mara.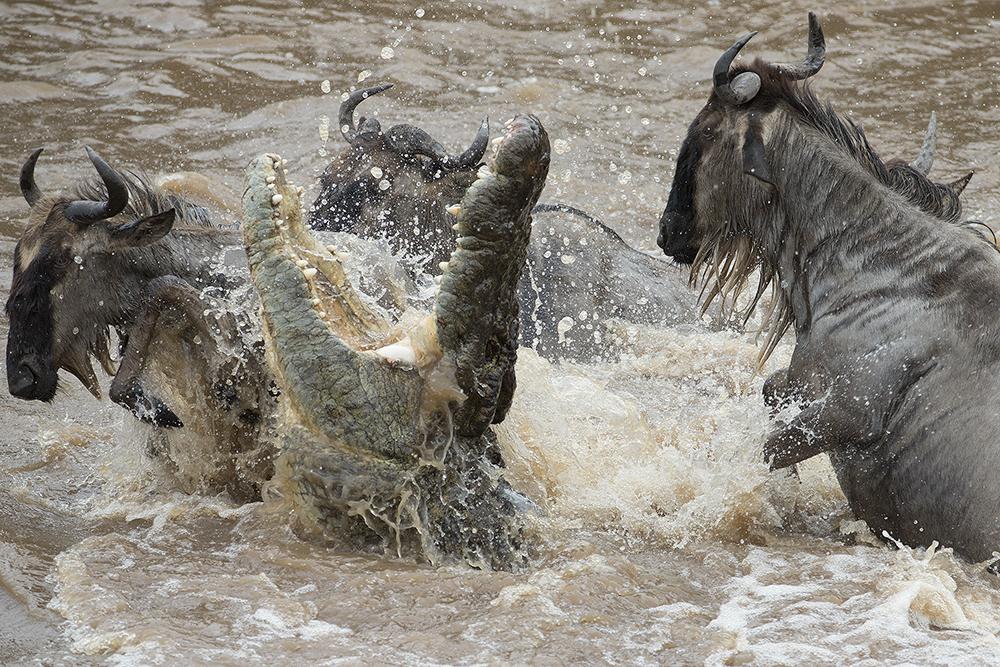 Why is the crossing of the Mara River better than the Grumeti River?
The great wildebeest migration cycle involves these animals crossing the Grumeti and Mara rivers, both of which are home to crocodiles.
You get a better view of the crossing and action on the Mara river because it is surrounded by trees unlike the Grumeti river.
Compared to the Grumeti river, the Mara river has more hippos and crocodiles.
The Mara river features a slight slope into the river and an ascent out of the river, providing a better view and more activity.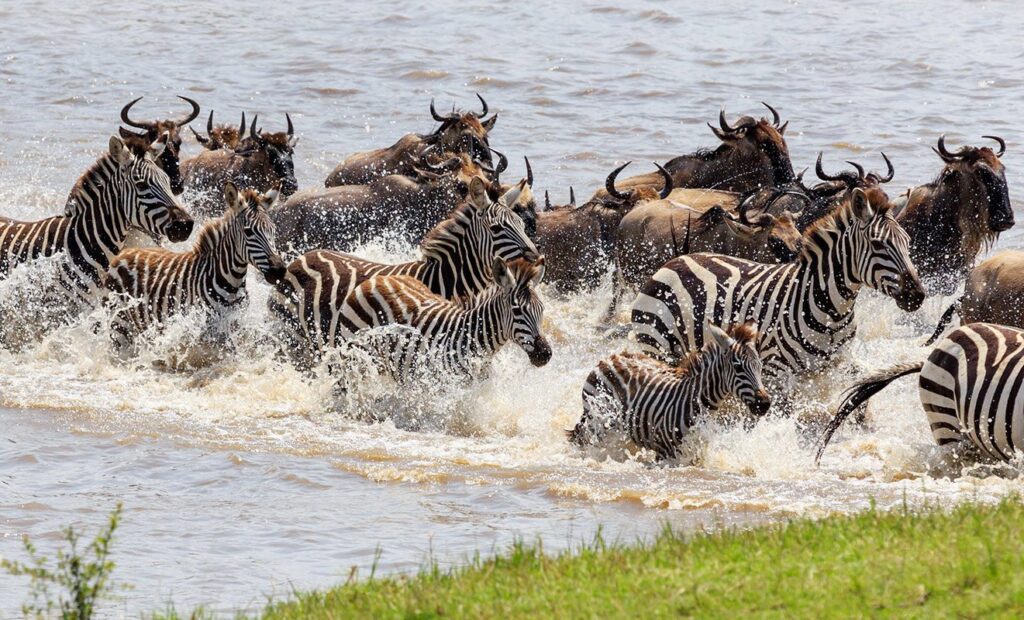 Note; A better month for Mara River crossing is August.
Crossing of the Grumeti River (June–July):
Around this time, it expected that the great wildebeest migration will cross the Grumeti River, which located in the western Serengeti. Where vegetation changes from plains to small forests and bushes where the migration passes through when it starts to get dry.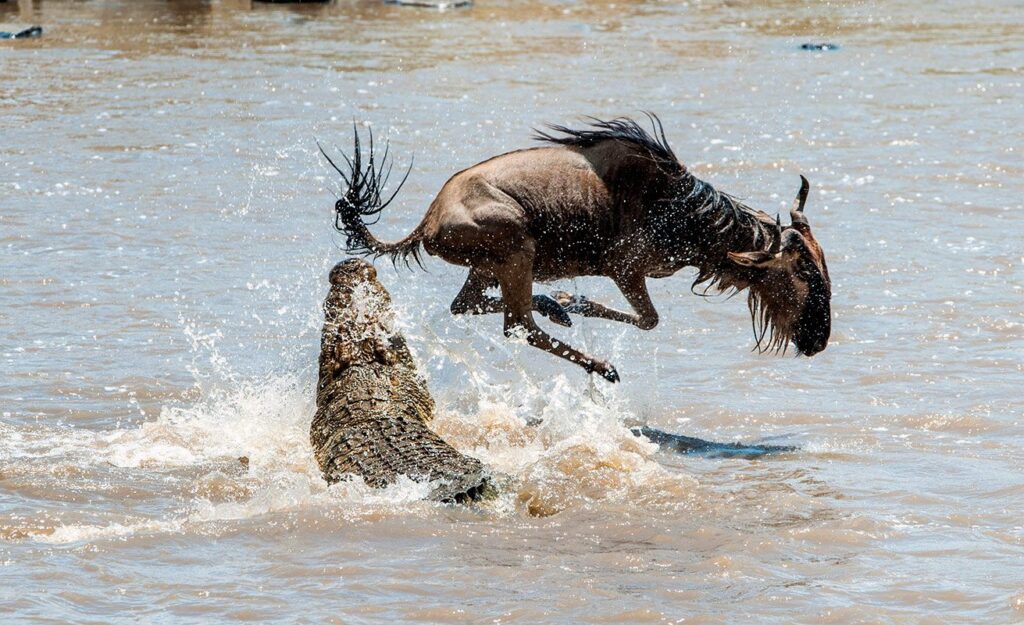 The great wildebeest migration cycle & Map.
The fact that the great wildebeest migration takes place all throughout the year and crossed many years means that it cycle and path are well known and can be anticipated. Though not to exact timings because weather variations might modify the timing but are still likely to fall within the range.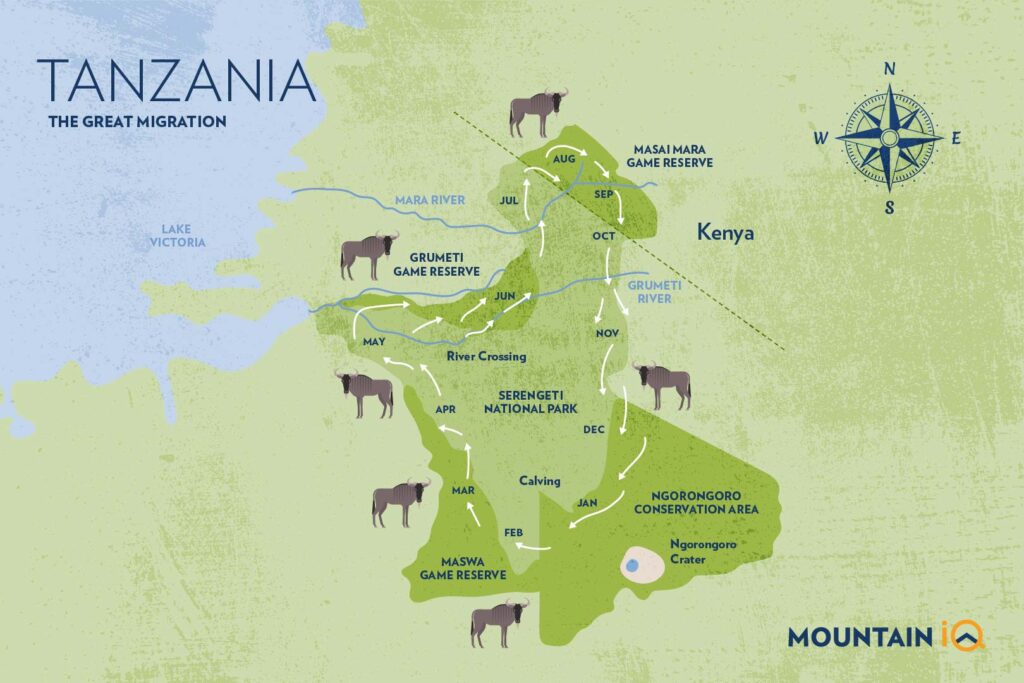 From December to March;
It expected that many herds will be in the southern and northern Serengeti. Particularly in a region known as ndutu where they travel for calving. However, some herds may be spread in naabi, Olduvai Gorge, which in the southern Serengeti and the northern Ngorongoro.
April to July;
Beginning in late March, herds will move from the southern Serengeti to the center Serengeti (Seronera). Where they will remain until late May, when they will begin to move to the western Serengeti's Kirawira & Grumeti. In late May, they will then be expected to cross river Grumeti from mid-June to July.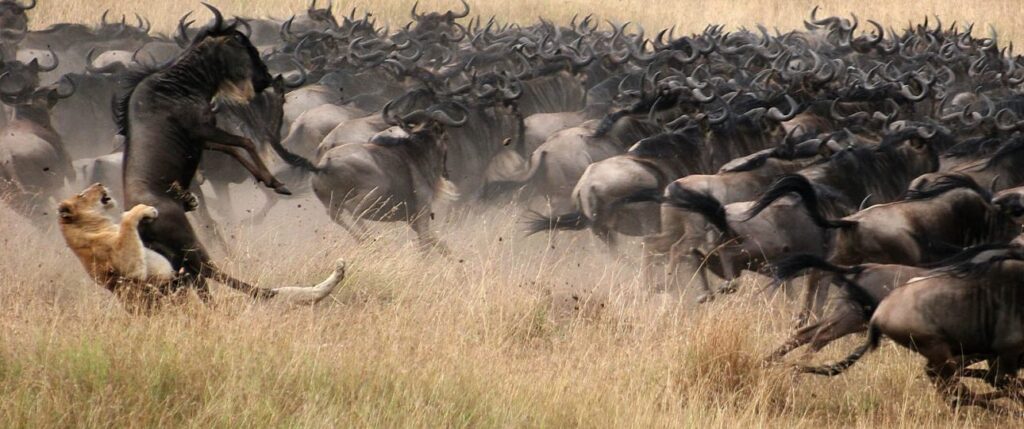 From July through September;
It expected that herds will move to the Serengeti's northern regions (Kogatende and Lobo), where some herds will be moving toward the Mara River and crossing into the Masai Mara. This expected to continue until the beginning of October.
October and November;
In Maasai Mara, where they will be expected to graze until November when they will be expected to return to Serengeti.
Our wildebeest migration tour packages.
Our migration tours begin from 3 to 8 days, which will give you plenty of time to witness this spectacle. But the time required is dependent on where the migration is at the time, so once in Ndutu, they are short in duration.
We have special migration packages that will follow the migration depending on the season, Where the migration is at the time (south Serengeti & longer duration once northern Serengeti).
Depending on the package selected, our migration trips may also include stops at other must-see locations, like the Ngorongoro crater.
Why book a trip to see the wildebeest migration?
It's more likely to observe predators and more likely to see them in action. Although they don't migrate themselves, predators will be on the lookout for these creatures when they pass through their territory.
Great animal density;
If you are looking to witness many animals, you will have to do a migration tour as the Serengeti can be very large. So if you choose a tour focused on central Serengeti and the migration is on the north Serengeti, those visiting a migration tour will see more animals.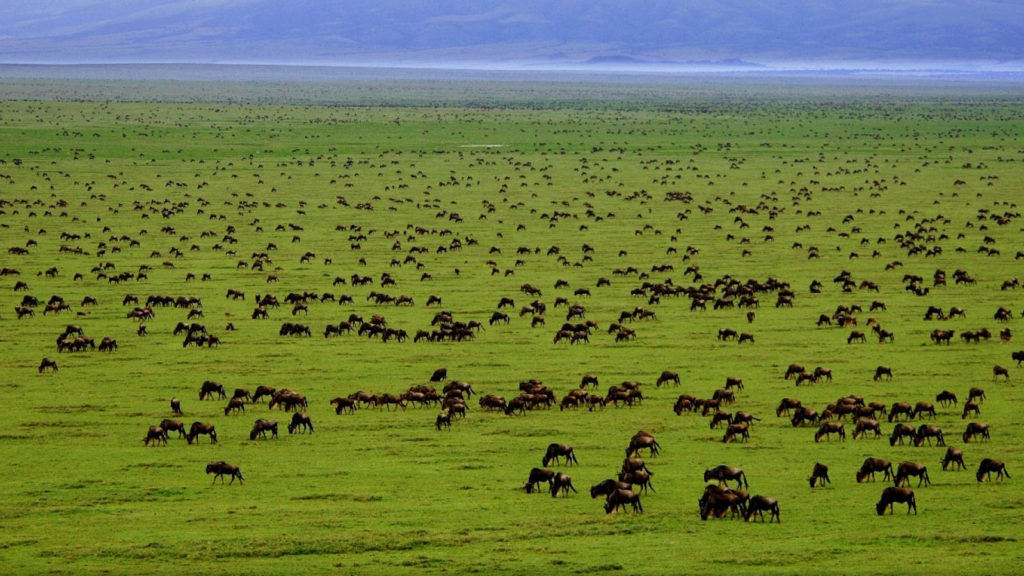 Solid knowledge of migration;
If you're interested in learning more, consider signing up for a migration tour. Other excursions may occasionally coincide with the migration, but they won't concentrate on it.
Photography safari;
If you're interested in going on a photographic tour, you should choose one that includes the migration; you'll have better, more surreal pictures and films as a result.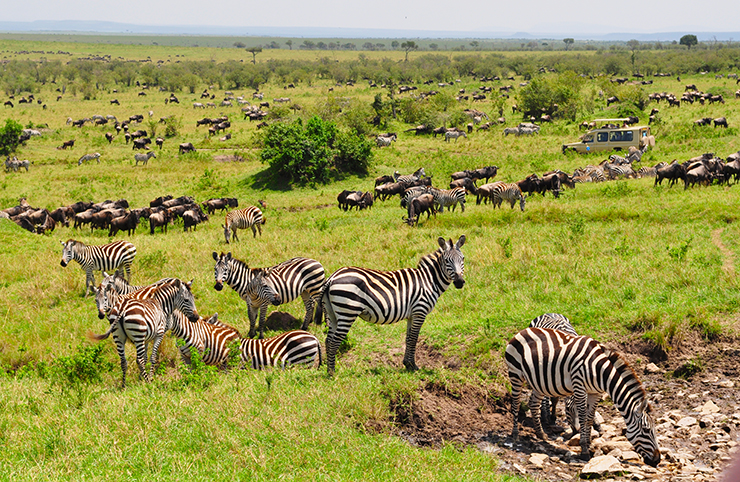 Facts on migration tour packages;
Although the tour's main focus is migration, but you will also see the wildlife in Ngorongoro crater.
Accommodations during the journey will include tented lodges, mobile camps, and temporary lodges (unless customized to your requirements).
Tour is private; we do not match tourists to this tour since it would be difficult and unsafe for us to do so because these tours stay in lodges or tented lodges and are not cheap safaris or cheap stays.
Customers can purchase add-on choices to customize the tour and their experience.
Facts about the great wildebeest migration;
This is the world's largest animal migration, including almost 2 million animals.
More than 4000 tons of food per day.
There isn't a boss.
Approximately 500,000 infants in a matter of weeks.
Within minutes of birth, newborns can walk and run.
A migration circle covering more than 1000 kilometers.